Who we are
We are an industrial group with family origins and we work in the commercialization of iron parts using various casting and machining technologies.
With 6 production centers in the Basque Country in the north of Spain and a capacity of more than 50,000t/year, we manufacture components for various industrial sectors in a range of 0.5 to 2,500 Kg.
Mission
Our value proposition focuses on facilitating the management of our customers, integrating technological processes and offering a wide range of products and services of high technical complexity, ready for final assembly. We bring the skills and professional experience of our employees, being responsible with our impact on the environment and creating an innovative environment that strengthens our processes, thus building long-term relationships of trust with our stakeholders.
Key figures
+

0

50

Turnover (M € /year)

0

3000

Range of parts (KG)

+

0

100

CNC machines, milling machines, lathes etc.
Our story
30 years of experience in growing together with our clients:
2018
Acquisition of a foundry in Legutiano
Specialised in manufacturing cast iron parts for industrial vehicles, valves and construction.
2014-2017
Developing
Internal synergies between plants and global commercial diversification.
2013
Acquisition of a foundry in Elorrio and machining workshop in Abadiano.
Specialized in the manufacturing of iron casting and machining parts for the automotive sector.
2012
Metal Smelting is founded with the acquisition of the Iurreta plant
Specialised in manufacturing cast iron parts for lifting equipment, the wind energy sector and capital goods.
1998-2011
Development and consolidation
The Company strengthens and develops its activity in demanding sectors such as heavy vehicles, combustion engines and wind power industry.
1998
Metal Performers is founded
A company dedicated to machining large, highly complex parts.
Strategy
We share the same corporate culture, based on honesty, teamwork, unwavering dedication to achieving objectives and the uncompromising and innovative character of its founding partner Mr. Antonio Román.
VISION
To be an industrial group recognized for providing a comprehensive service to our customers, increasing our turnover in a sustained manner and ensuring our economic solvency, in order to encourage new investments. We want to achieve maximum excellence in the management of our processes, and generate quality, secure and stable employment, providing a common and lasting value for our environment and society in general.
Customers

Promote customer focus throughout the organization.

Integrate technological processes, be competitive in price and excellent in service.

Retain their trust and satisfy all their needs and expectations.

To increase our production capacity and the optimization of our manufacturing processes.

People

Forming self-managed teams, promoting talent and leadership.

Encourage consultation and participation of all employees.

Strengthening and preserving the experience and knowledge of our employees.

Share good practices by integrating our corporate culture.

Society

Prevent impacts on the environment, with responsible consumption, working more efficiently and sustainably.

Promote health, healthy lifestyles and equality in all areas.

Be supportive and contribute value to society through commitments and volunteering.

Improve our chances of recommendation through a good corporate reputation.

Innovation

To achieve excellence in process management.

Introduce novelties in the development of our management model.

Gain a competitive advantage through the management of advanced technological processes.

Improve the intelligence of our processes by taking advantage of digital development.
Principles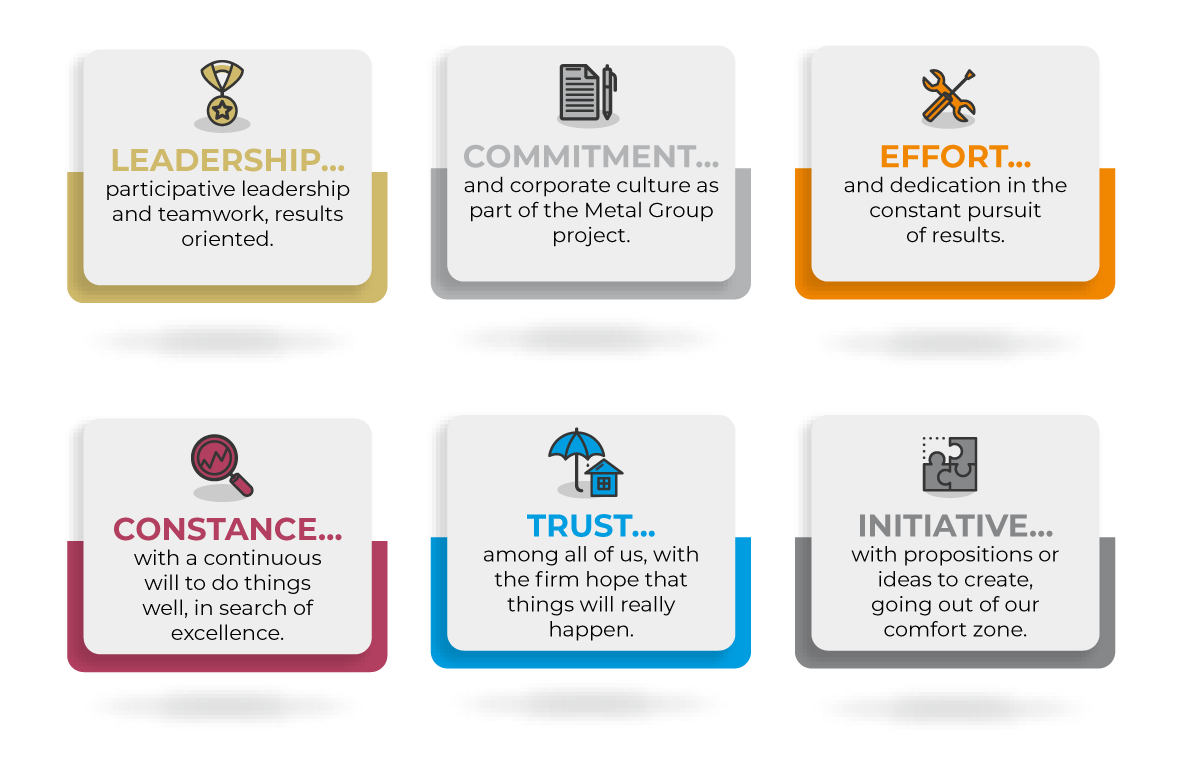 Set of standards and values
Maintaining and continuing to develop a corporate culture aligned with the best standards of business ethics, socially responsible and respectful with the environment is one of the priority objectives established by the Metal Group management. Assuming these Principles and Values as our own in the individual performance of our responsibilities as professionals, strengthens our commitment to all employees of the group, as well as to those partners, collaborators or third parties with whom we interact. The purpose of the Code of Ethics is to establish the principles, values and rules that should govern Metal Group's relations with its stakeholders.